BUY 2 GET 1 FREE w/ code PRENATAL3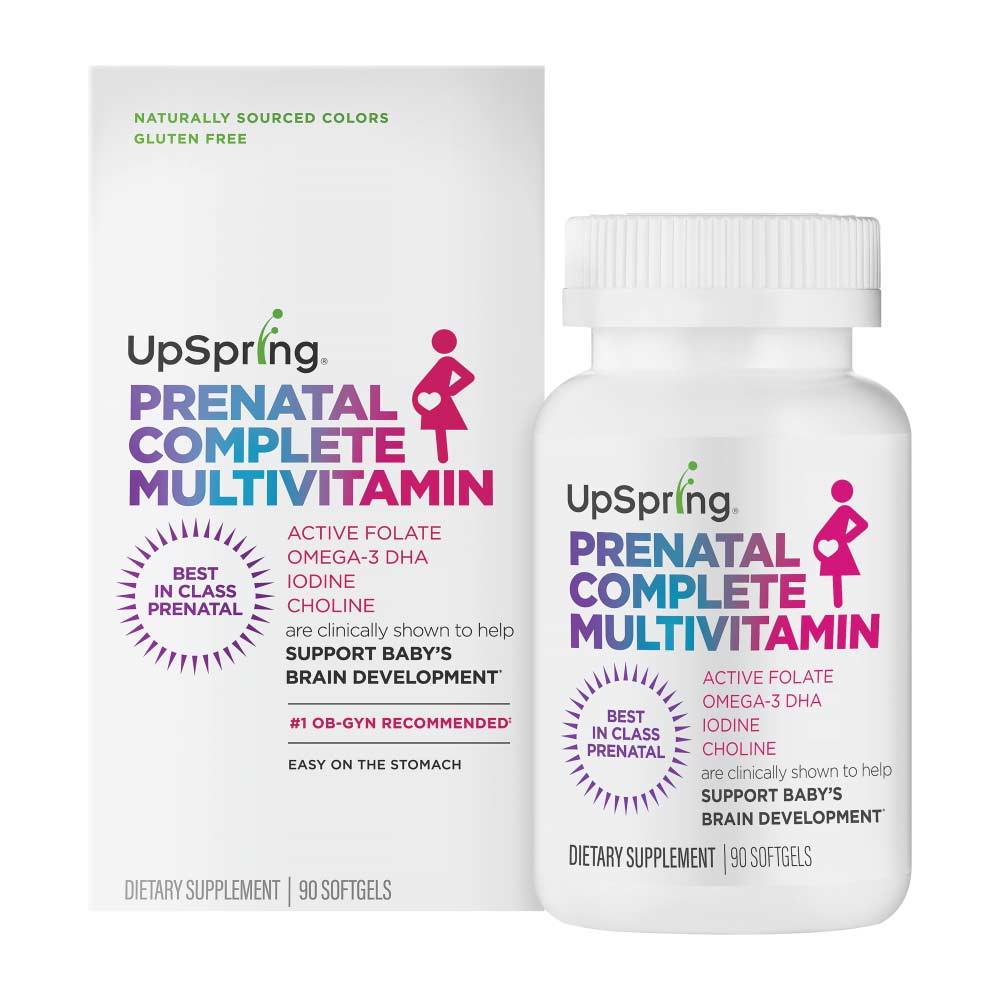 Prenatal Complete Multivitamin Softgel
- Excellent source of 20 essential nutrients for mom and baby
- Formulated with Omega-3 DHA, Iodine and Choline, which are clinically shown to help support fetal brain development*
- Delivers #1 OB-GYN recommended ingredients at the recommended levels for prenatal care
- Easy-to-swallow and easy on the stomach

BUY 2 GET 1 FREE w/ code PRENATAL3
$19.99


Prenatal Complete Multivitamin Softgel

- 30 day supply of UpSpring Prenatal Softgels
- Formulated with Omega-3 DHA, Iodine and Choline, which are clinically shown to help support fetal brain development*
- Contains 800 mcg of Active Folate
- Easy-to-swallow and easy on the stomach
- FSA/HSA eligible

BUY 2 PRENATALS GET 1 FREE w/ code PRENATAL3
"I LOVE this prenatal vitamin. I went from HORRIBLE morning sickness for 3 weeks straight with 24/7 nausea and vomiting on and off throughout the day. After switching to UpSpring it is nearly gone!! I am a very active person and my nausea had me on the couch to the point where I was wondering if it was time to ask a doctor for a prescription anti-nausea med. Won't need it anymore. This just goes to show, not all prenatal vitamins are created equally. Will never use another brand again. I'm beyond impressed."
Olivia. W
2 AUG 2020
"After about a year of using a different UpSpring product I switched to these just before I became pregnant through by second IVF cycle. Great timing, I feel like these will nourish my baby and they are easy to take. I am not noticing any side effects or lingering tastes. Glad I signed up for the subscription so I will always have a bottle on hand when I need it.:
Taylor. P
15 SEP 2020
Frequently asked questions
WHEN SHOULD I START TAKING UPSPRING PRENATAL COMPLETE?

Yesterday. If that's not possible, it's a good idea to start taking UpSpring Prenatal+ as soon as you learn you're pregnant. In fact, if you are planning to become pregnant in the next few months, it's not too soon to start.
WHY 3 SOFTGELS? COULDN'T YOU PUT IT ALL INTO 1 SOFTGEL?
When formulating a best in class prenatal multivitamin our goal was to give mom, and baby, essential nutrients at doctor recommended levels. UpSpring Prenatal Complete provides a number of key essential minerals that other prenatal vitamins do not. These essential minerals include choline (essential for baby's developing brain), along with selenium, copper, manganese, and chromium. In addition, UpSpring Prenatal Complete is formulated at levels consistent with the most current scientific recommendations for pregnancy, offering higher levels than many other prenatal vitamins including for iodine and vitamin C. All of this together, contributes to the 3 softgels per day.
DO YOU HAVE TO TAKE SOFTGELS ALL AT ONCE?

No. The (3) easy to swallow prenatal softgels can be taken together or spread throughout the day. What is most important is that you take your prenatal vitamins daily and ideally with food to optimize absorption and minimize any possible digestive upset.
WHY ARE THE SOFTGELS DARK IN COLOR?
WHAT'S THE DIFFERENCE BETWEEN FOLATE, FOLIC ACID AND METHYLFOLATE?
Folate or vitamin B9 is the broader term that includes natural forms found in dark leafy greens, as well as the synthetic form often found in dietary supplements. Folic acid requires conversion to its active form before it can be used by the body. The methylfolate found in our prenatal is already in its active form. Women who are pregnant (or planning to become pregnant) should get at least 800 mcg of folate or folic acid per day from diet and supplementation.
IF THE AI (ADEQUATE INTAKE) OF CHOLINE FOR PREGNANT WOMEN IS 480 MG, WHY DOES YOUR FORMULA PROVIDE LESS?
UpSpring Prenatal Complete gives you a great start on your daily choline requirement with 55 mg choline per serving. Choline is another one of those nutrients like iron that is fairly easy to get in food. If you're eating well and choosing choline-rich foods every day (such as eggs, shrimp, cod, salmon, beef, dairy products, certain legumes, and cruciferous veggies) you should have no trouble getting the recommended adequate intake.