Science-Based Fertility Support For Her & Him
Hey there fellow baby-makers! No two conception journeys are alike (to say the least), but we've combined our three favorite, science-based preconception products, into one TTC bundle if you find yourself in need of a little bit of support.

Nutritional Support For Your Journey Together
Our preconception power pack includes a 30-day supply of HeNatal Fertility For Men (for the gents), Fertility For Women (for the ladies), and Prenatal Complete Multivitamin (also for the ladies). Happy baby makin!

Note: Product packaging may vary, and this product can only be shipped to US addresses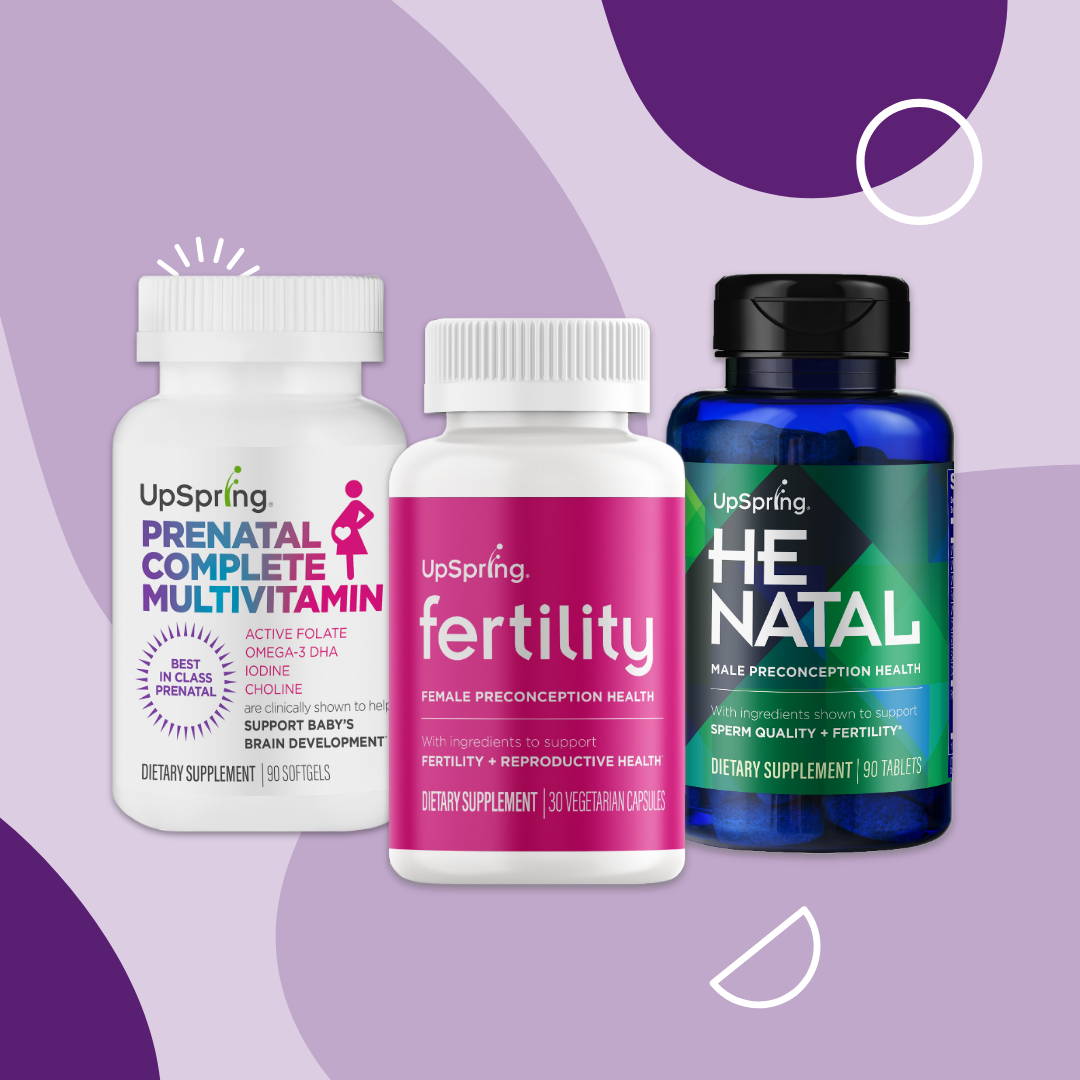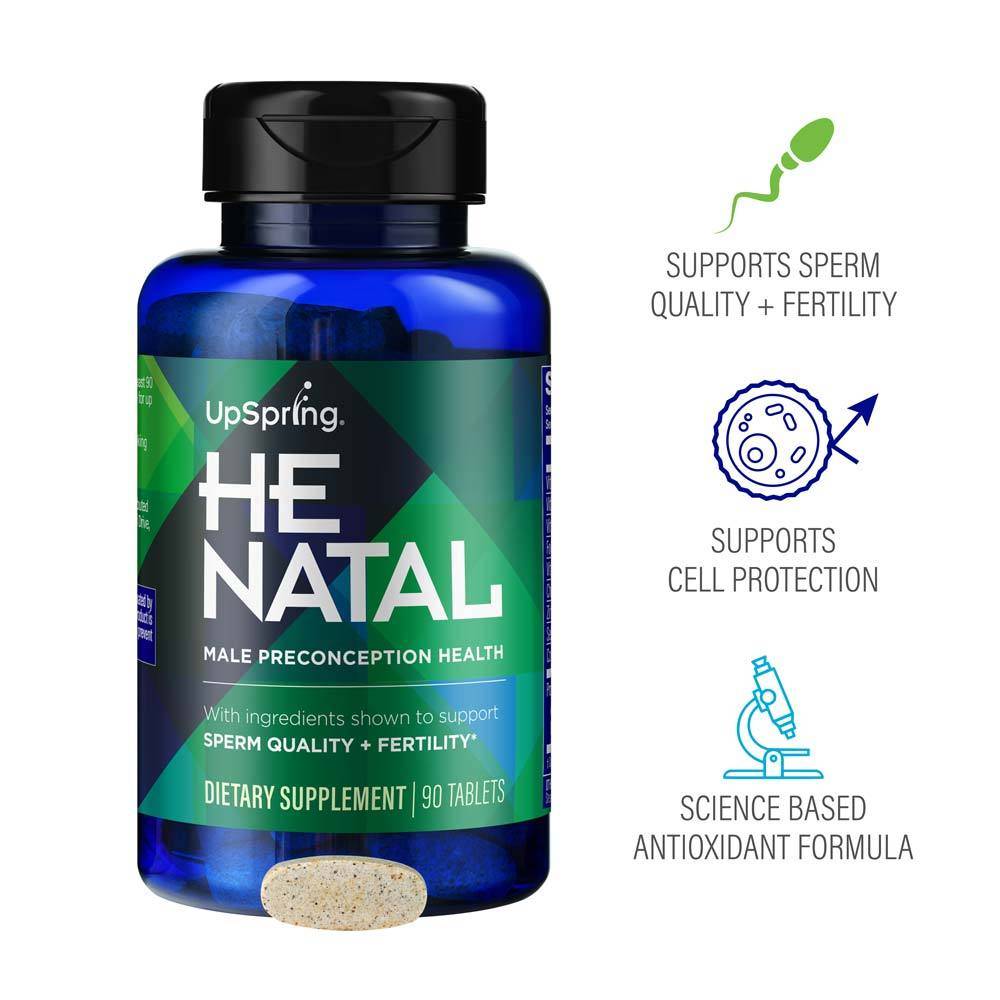 UpSpring Fertility for Women Capsules


- Supports female fertility, consistent cycles and reproductive health*
- Holistic herbal formula with maca root, shatavari, and black cohosh
- Naturally sourced botanical ingredients
- Herbal antioxidant support*
- Drug free
- Chosen by women with PCOS
- Gluten free, non-GMO

HeNatal Preconception Vitamin for Men


- Delivers ingredients, such as Vitamins C and, E along with other key nutrients, shown to support sperm quality and fertility in men*
- Antioxidants to help support cell protection*
- Science-based antioxidant formula
- Formulated by internationally renowned physician Marianne Legato, MD, PhD
- Designed to be taken in the 90 days prior to conception
- Does not contain gluten, dairy, soy.
- Non-GMO and manufactured in a GMP certified facility

Prenatal Complete Multivitamin Softgel


- Excellent source of 20 essential nutrients for mom and baby
- Formulated with Omega-3 DHA, Iodine and Choline, which are clinically shown to help support fetal brain development*
- Delivers #1 OB-GYN recommended ingredients at the recommended levels for prenatal care
- Contains 800 mcg of Active Folate
- Includes 27 mg non-constipating Iron
- Easy-to-swallow and easy on the stomach
- No artificial colors, gluten free and non-GMO

Not Ready? Lets keep in touch.
Sign up to hear about the latest news and exclusive offers
"After two bottles I was able to conceive after being told countless of times I couldnt get pregnant. Being diagnosed with pcos, endometriosis and being told my weight is an issue. I'm five weeks pregnant and I dont believe in coincidence, I 100% believe these pills did it."
Brittany. S
2 AUG 2020
"I LOVE this prenatal vitamin. I went from HORRIBLE morning sickness for 3 weeks straight with 24/7 nausea and vomiting on and off throughout the day. After switching to UpSpring it is nearly gone!! I am a very active person and my nausea had me on the couch to the point where I was wondering if it was time to ask a doctor for a prescription anti-nausea med. Won't need it anymore. This just goes to show, not all prenatal vitamins are created equally. Will never use another brand again. I'm beyond impressed."
Olivia. W
15 SEP 2020
Frequently asked questions
WHEN SHOULD I STOP TAKING FERTILITY FOR WOMEN?

Discontinue use once pregnancy is expected or confirmed.
WHEN SHOULD MY PARTNER START TAKING HENATAL FOR MEN?
Begin taking HeNatal at least 90 days prior to conception to help improve sperm quality and continue taking until conception occurs, or up to one year.
WHY SHOULD MEN TAKE A PRECONCEPTION SUPPLEMENT?

Sperm quality and health are key to male fertility. Did you know new sperm are produced every 42-76 days? This means there is a real window of opportunity to improve sperm quality prior to conception. Certain nutrients enable epigenetic methylation of genes and are involved in the production of sperm, as well as in sperm shape, motility, and quantity. These nutrients, which can fall short in the male diet, are found in HeNatal at the levels found favorable in clinical studies surrounding male infertility.*
CAN I TAKE HENATAL WITH A MEN'S MULTIVITAMIN?
IS THERE A CERTAIN TIME DURING MY CYCLE I SHOULD START TAKING FERTILITY FOR WOMEN?
You can start taking Fertility For Women at any time during your cycle and at any time during the day.
CAN I TAKE FERTILITY FOR WOMEN WITH A PRENATAL VITAMIN?
Most definitely! When trying to get conceive it is very important to take a good prenatal vitamin.
WHAT IS THE DIFFERENCE BETWEEN FOLATE, FOLIC ACID AND METHYLFOLATE?
Folate or vitamin B9 is the broader term that includes natural forms found in dark leafy greens, as well as
the synthetic form often found in dietary supplements. Folic acid requires conversion to its active form
before it can be used by the body. The methylfolate found in UpSpring Prenatal Complete is already in
its active form. Women who are pregnant (or planning to become pregnant) should get at least 800 mcg
of folate or folic acid per day from diet and supplementation.